Together We Learn's Chief Executive features in Charitable Traveller Magazine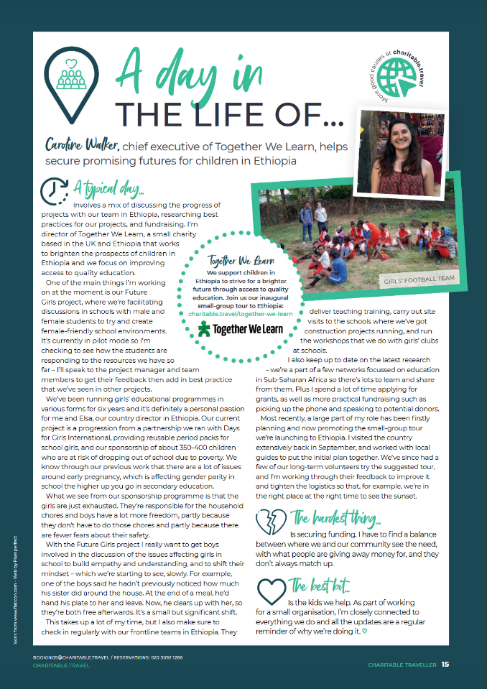 Caroline Walker, CEO of Together We Learn, is featured in Charitable Travel magazine's July issue. The 'day in the life of' feature takes you through a typical day for our CEO in the UK office of Together We Learn, including the best bits and the hardest parts of the job.
"We've been running girls' educational programmes in various forms for six years and it's definitely a personal passion for me and Elsa, our Country Director in Ethiopia. Our current project is a progression from a partnership we ran with Days for Girls International, providing reusable period packs for schoolgirls[…]. What we see from our sponsorship programme is that the girls are just exhausted. They're responsible for the household chores and boys have a lot more freedom[…]. With the Future Girls project I really want to get boys involved in the discussion of the issues affecting girls in school to build empathy and understanding – and to shift their mindset, which we are starting to see, slowly."
Charitable Travel is an award-winning social enterprise travel agent that donate 5% of the cost of any holiday booked with them to charity. Together We Learn is one of the charities registered with them so you could donate to our work in Ethiopia when you're booking your next holiday!